Apply for our FREE TWIST Webinar
Discover the Webinar Series Highlights:
Unlock Your Creative Potential:
📚 Content: Dive into the world of interactive storytelling. Our webinar series is designed to empower you with the skills to master TWIST, our game engine, and become a proficient creator of interactive fiction.
🎓 Meet Your Mentor: Join our sessions led by Katherine Forrister, your dedicated storycoach. With her expert guidance, you'll gain valuable insights and expertise in the art of interactive storytelling.
🎙️ Hands-On Experience: Get ready to roll up your sleeves! Throughout the series, you'll embark on a creative journey, crafting your very own interactive audio story. It's learning by doing at its finest.
🏆 Certification: Your hard work pays off! Upon completion of the series, you'll receive a certification. It's not just a piece of paper; it's a testament to your newfound skills and a valuable asset for your creative journey.
Ready to embark on this interactive storytelling adventure? Join us in the webinar series and unleash your storytelling potential!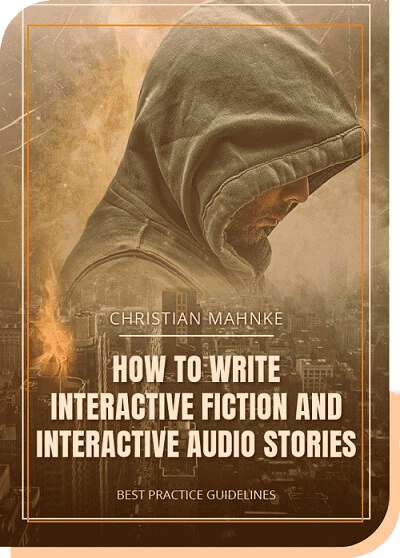 Get the Book for Free as well!
We put everything we found out about "How to write Interactive Audio Stories best "in 180 pages. It took us three years to write this book, but it was worth it. It's full of valuable information about narrative design and practical examples about interactive storytelling.
All participants of the webinar will receive the pdf for free.
Create Interactive Stories with TWIST easily
TWIST is the market leading game engine for creating and publishing Interactive Audio Stories. 
It's browser-based, no-coding and provides a visual interface along with great gameplay features.